Aluminium Plain Sheet - Alloy 3003 H14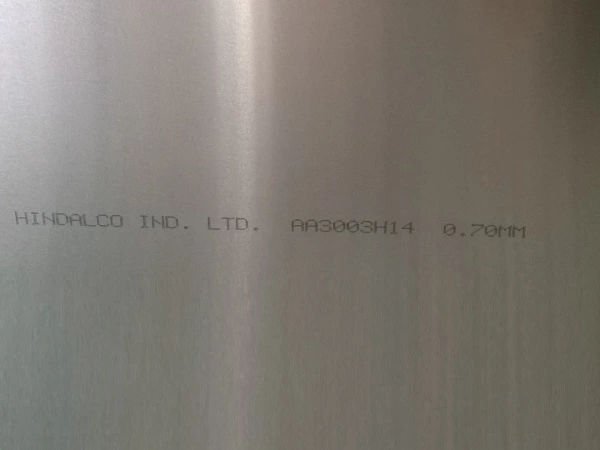 AA 3003 is alloyed with 1.20% manganese, which increases the strength of AA 3003 over commercially pure aluminium (1100 series). AA 3003 has excellent workability, weldability, and good corrosion resistance. It is used for drawing, forming, spinning, fuel tanks, sheet metal works and other applications that require moderate strength for an aluminium with good weldability.
Applications of Aluminium Alloy 3003
Aluminium alloy 3003 sheets exhibit moderate strength and very good corrosion resistance which makes it an ideal alloy to use for jacketing on mechanical insulation systems. It is widely used for stampings, spun and drawn parts and products, cooking utensils, chemical equipment, builders hardware, storage tanks, truck and trailer components, mail boxes, cabinets, fan blades, awnings, siding, kitchen equipment, decorative trim, architectural uses, signage applications
Technical Datasheet of Aluminium Alloy 3003
Click on the link below to view the technical datasheet to ensure that this aluminium alloy is right for your requirements
Technical Datasheet of Aluminium Alloy 3003
Table of commonly stocked sizes for Aluminium Alloy 3003
The AA 3003 sheets available with us are of HINDALCO-INDIA make and all genuine HINDALCO sheets carry Ink Stencil Marks on individual sheets showing Mill name, Alloy Temper etc. We provide mill test certificates with matching coil/heat numbers as per ASTM standards with all our deliveries if requested.
Below are the sizes available with us in our warehouses in Dubai & Sharjah
Apart from this table, note that other non standard sizes are available on request. Please get in touch with us with your inquiry.
Aluminium Sheet Thickness (mm)
Size 1219mm x 2438mm
(4' x 8')
1.0
✓
1.2
✓
1.5
✓
2.0
✓
3.0
✓
4.0
✓