Perforated Sheet Metal
We at Dinco Trading Co LLC offers three kinds of perforated sheet metal with a wide selection of sizes and open area configurations. Are you looking for an 4'x8' perforated aluminium sheet, a 3mm thick galvanized iron perforated sheet or a 22% open area perforated stainless steel sheet? Check out all of our available sizes, thicknesses and open areas. Use our Open Area Calculator to help you make the best decision.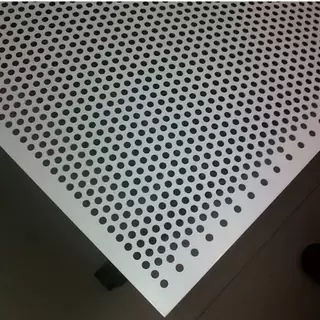 Aluminium Perforated Sheet
Perforated aluminium sheets are corrosive resistant and commonly used in interior and exterior design, HVAC, noise suppression, sunscreens, buildings facades and more.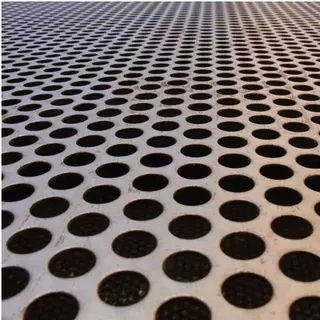 Perforated Galvanized Iron Sheet Metal
We stock perforated galvanized iron sheets hot dipped in Zinc which provides better corrosion resistance compared to electro-galvanized sheets.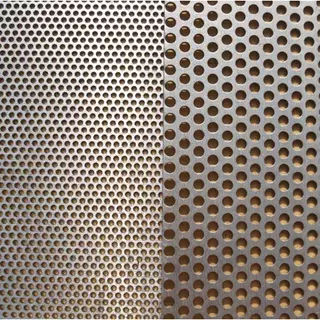 Perforated Stainless Steel Sheet Metal
We stock unpolished, grade 304 perforated stainless steel sheets in 2B Mill Finish. We import our sheets fully perforated at the mill which ensures unmatched flatness and uniformity.
Open Area Calculator
60° staggered pattern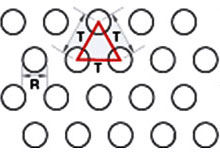 Perforated Sheet Metal Supplier
Dinco Trading Co LLC is a dependable supplier of perforated sheet metal. Become a partner and see why we've become the leading perforated sheet supplier in the UAE.
Versatile Perforated Sheet Metal Made for You
If you are looking for one of the most versatile and popular products in the marketplace, then perforated sheet metal is certainly the right choice for you. The perforated sheet is also known for its features and properties. These perforated sheets are made by punching regular flat sheets. It has a determined pattern for cosmetic or usability reasons. From heat dissipation to noise reduction, there are oodles of benefits of perforated sheet metal depending on its application. These sheets are used in applications like ventilation and filtering where the passing of water and air is crucial. These sheets have punched patterns and this is why sheets are very light and thin.
Perforated sheet metal is now conveniently available and can be cut down according to your exact specification. The sheets also have a protective function that makes it durable enough. You will get these perforated metal sheets in aluminium, Galvanized, and Stainless Steel. You can choose the metal of perforated sheets depending on corrosive resistance that suits your specific needs. Nowadays, perforated metal sheets have become the first preference for architects.
Dinco is a reliable hub that supplies a perforated metal sheet of excellent quality. We are providing a huge range of metal sheets that you can use for all your industrial and other manufacturing usages. We always consider your needs and provide a seamless metal product that fits your needs well. We are striving to make your manufacturing work easier and this is why we have incredible solutions for all your purposes. We are providing exceptional quality perforated sheets in stainless steel, aluminium, and galvanized materials.
We believe that everybody deserves exceptional quality when purchasing perforated metal sheets. This is why we keep our vision on the quality of the perforated sheets to make sure you always get better than best. We also consider your needs well and assure you that you will get quality-oriented products that are customized for you. Now, connect with us and shop perforated sheets according to your preferences.