The presence of oxide layer protects Aluminium from wear and corrosion. Because of this layer pure Aluminium doesn't easily wear away. But, presence of other alloying elements in Aluminium makes it exposed to corrosion and abrasion. The best way to protect Aluminium is by creating a solid layer of oxide. There are many techniques to create thick oxide layer for protection of Aluminium alloy one of this technique is anodizing.
Anodizing process is suitable for various materials but Aluminium reacts most efficiently to anodizing process. The process has many benefits but it doesn't affect the strength of the Aluminium. It is very important to choose the right Aluminium alloy for the anodizing process. The presence of various types of Aluminium alloy with different tempers makes it a difficult task. Basically, alloys are divided into two categories based on their certain physical uniqueness and properties. Every alloy reacts differently with anodizing process which is important to consider while choosing the right Aluminium alloy.
For anodizing process higher quality alloy are considered perfect. In the anodizing process Aluminium is converted into Aluminium oxide to form a thick layer so high quality Aluminium results in a harder and deep layer of oxide. The most used alloys for the anodizing are of alloy series 5000. However, you must note that just getting the right alloy is not enough to guarantee high quality finishes. It is important to get the sheets that are manufactured and sold as Anodized Quality. We stock anodized quality sheets in grade 5005 with laser PVC protection as this product has been manufactured using a special process to ensure a high quality finish without any marks compared to regular alloy 5005 sheets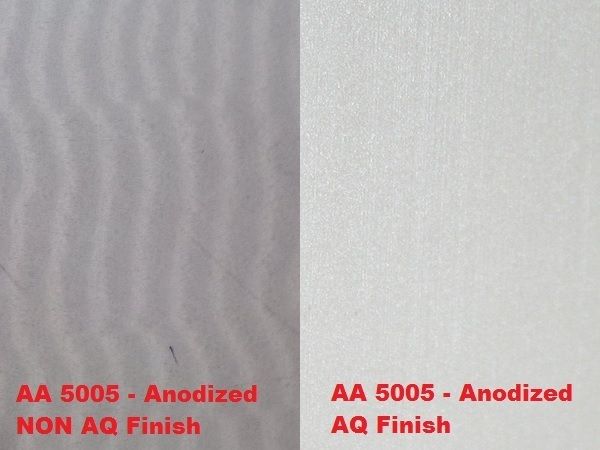 While all Aluminium can technically be anodized, only specially manufactured "anodize quality" Aluminium such as the 55HX that we carry in our stock will give a great surface finish. 55HX Anodize quality Aluminium is made to specific standards and tolerances with a special manufacturing process that ensure it will produce a consistent and high-quality surface finish when anodized.
Regular Aluminium may still be able to be anodized, but the resulting surface finish may not be as uniform or attractive as it would be with anodize quality Aluminium. This is because regular Aluminium may have surface imperfections or variations in composition that can affect the anodization process and result in a less desirable finish.
On the other hand, anodize quality Aluminium has been specifically designed and manufactured to produce a consistent and high-quality finish when anodized. This makes it the ideal choice for applications where a consistent and attractive surface finish is important.
In summary, while all Aluminium can be anodized, only specially manufactured anodize quality Aluminium will give a great surface finish. If you are looking to achieve a consistent and attractive finish for your Aluminium products, it is worth investing in anodize quality Aluminium to ensure the best possible results.
Dinco Trading LLC is one of the suppliers of Aluminium sheets and other products in UAE. We were founded in the year 1997 and since then we have become one of the biggest supplier of Aluminium and other products. The company provides quality and efficient Aluminium products along with Aluminium alloy of all series. We have more than 2000 clients and this number is continuously increasing. You can visit the site to know more about the products or important information offered by it, so go for it.